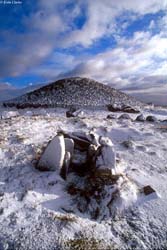 Loughcrew, Co Meath
While Newgrange understandably draws thousands of tourists from Dublin, I would highly recommend a one-day circuit that many visitors might not have heard too much about.
For a great mix of archaeology, history, scenic beauty and a little bit of magic too, I would suggest heading to Trim, to see the castle and take the wonderfully presented river walk; onward to Fore, a real hidden gem in the Irish countryside; come back via Loughcrew, and if there's still light in the day, have a stroll up the Hill of Tara.
The Cairns at Sliabh na Caillí (Loughcrew)
It was weather that carried the Cailleach onto the hills,
a swirl of graphite anger from above the plains of Westmeath.
Once over the summit of Carnbane West, she opened her apron to the earth
and all about resounded to the tumbling of tipped boulders;
then again at Carnbane East and Sliabh Rua too. At the fourth hill,
she turned a moment towards me, and as her glance flashed she slipped.
I saw brilliant trails from the whites of her eyes as she plummeted;
the instant she hit earth, her body was a smouldering oak.